Student Spotlight: Julie!
Julie is one of our General English Program students and just recently graduated with her Masters from business school in France. Here are some highlights that she shared regarding her experiences here at GV Hawaii: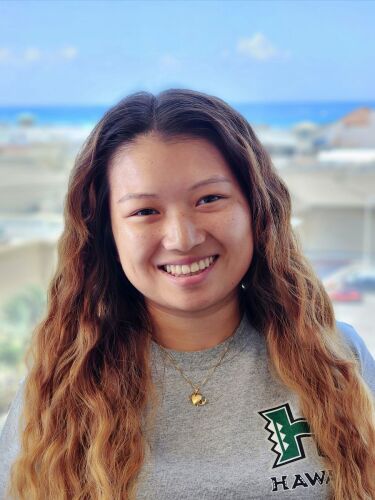 Q: What started your adventure here at Global Village Hawaii?
A: [After finishing my masters] I decided to take a break and improving my English, so first I was thinking of going first to LA or New York…but I saw the weather [in Hawaii], lots of beaches and very beautiful landscape. And I think Hawaii's a very great place to do a break from a very big city like Paris. Honolulu is a big city but… you have a lot of places with a lot of nature and beach so its totally different from Paris- and I was also interested in the surfing lessons
Q: And were you able to try that surf lesson? How did that go?
A: Great! I booked through the school with other students…
Q: What are your Top 3 things to do in Hawaii?
A: hmm I think the first one would be hiking. We have a lot of choices here.
Q: What's your favorite hike so far?
A: My favorite one is Diamond Head because it's an easy one… for me it's so meaningful to go to Diamond Head because you can see Waikiki and it's the area everyone goes and stays there, and you can see it from the top- to me its amazing.
(continuing her answer from the previous question)
The second one would be snorkeling and I highly recommend Hanauma Bay. And the last one I think would maybe the North Shore… because its not too modern and very colorful… and more chill. (a term meaning "relaxed" or "laid back".
Q: Any advice for future students of Global Village Hawaii?
A: For advice I think I would say, they don't have to be scared and they don't have to feel alone. We are all in the same boat so [everyone] helps each other… and if you have any problems you can always contact the school… you aren't alone. You have the school and the other students, so you don't have to worry