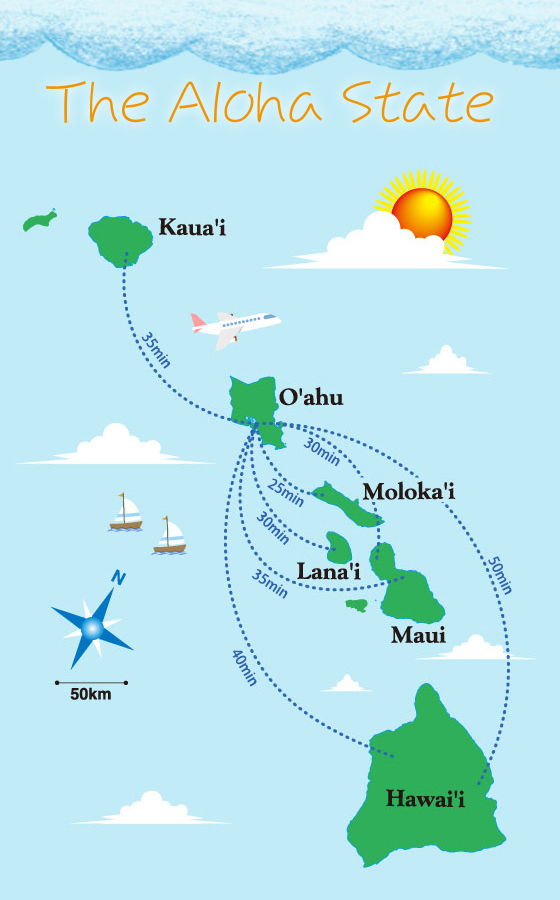 Source: www.hawaiitourismauthority.org
The State of Hawaii
Hawaii State Nickname
The Aloha State
General Information
Population:1.25 million(as of July 2020)
Area:Approximately 16,635 ㎢
State Capital:Honolulu, Oahu
State Flag:Union Jack in the UK on the upper left and eight red, blue, and white lines representing the eight islands of Hawaii
State Flower:Maohauhere (Yellow Hibiscus)
State Fish: Humuhumunukunukuapuaa
Currency:US Dollar
Official Language
English and Hawaiian
English is spoken throughout the islands, but Hawaiian is also an official language of the state of Hawaii. Pidgin English is a Creole Language (mixture of various languages) and is spoken in daily casual conversation by some Hawaii residents.
Hawaii Islands
The state of Hawaii is an archipelago in the middle of the Pacific Ocean, consisting of about 132 volcanic islands of different sizes.

Among them, tourists can visit six islands: Kauai, Oahu, Lanai, Molokai, Maui, and Hawaii. You can enjoy the rich nature such as beautiful beaches, lush rainforests and volcanic deserts.

How many Hawaiian words do you know?
ALOHA
What does it mean in English?
ALOHA!
Hello, Welcome, Good bye
MAHALO
What does it mean in English?
ONO
What does it mean in English?
OHANA
What does it mean in English?
KANE
What does it mean in English?
WAHINE
What does it mean in English?
KEIKI
What does it mean in English?
A HUI HOU
What does it mean in English?
Weather and Climate in Hawaii
The Hawaiian Islands are known for their beautiful weather throughout the year. The weather is very consistent with a minor gap in temperature between 24 and 30 ℃. The trade winds are constantly blowing from east to west, so the humidity and temperature do not rise too much and it is comfortable. You can wear summer clothes such as T-shirts, shorts, and sandals year around.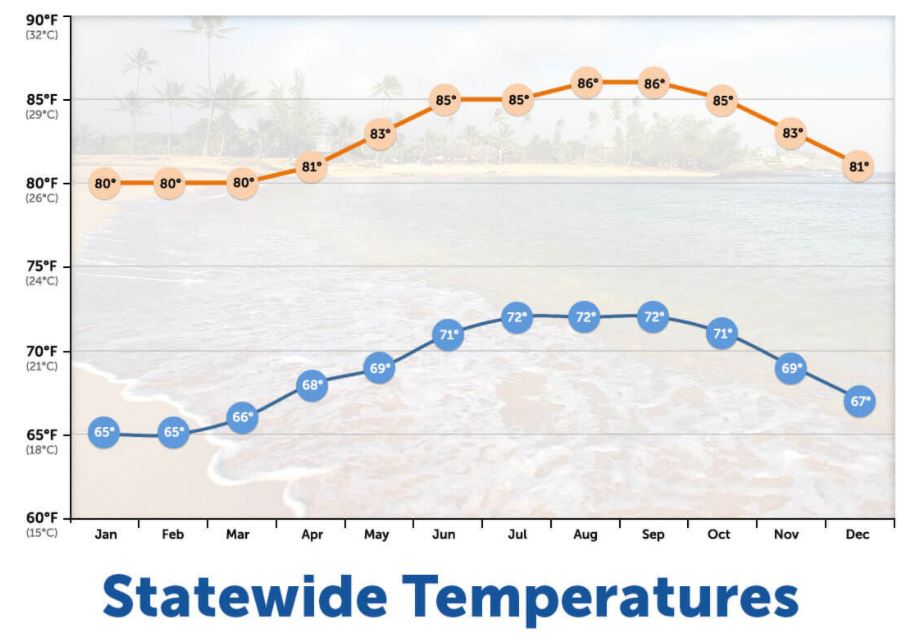 Source:www.hawaii-guide.com

Rules and Etiquette in Hawaii
Drinking Age in Hawaii
You must be at least 21 years old to drink or possess alcohol in Hawaii. Drinking alcohol in public area such as beaches is prohibited.
ID is required when purchasing alcoholic beverages.
Smoke Free State
Smoking is basically prohibited in public places and indoors. Most hotels do not allow smoking indoors and on balconies. You must be 21 years old and will need to show your ID when purchasing cigarettes.
Protecting Sea Life
Marine creatures such as sea turtles and Hawaiian monk seals may be encountered in the ocean, but they are protected by law and are not allowed to be touched or fed. Keep a distance of 3m or more if you encounter one of these amazing animals.
No coral-harming sunscreen
From 2021, sunscreens which are containing harmful ingredients to coral reefs are banned from use and sale.
No texting while crossing street
Looking at you cell phone while crossing a crosswalk is prohibited. If you commit a breach, you will be fined $ 15-99. In addition, crossing at other than the pedestrian crossing is prohibited and punishable by a fine of $ 130 for violations.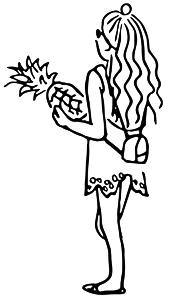 Tipping
Tipping when serviced at restaurants is a standard practice in Hawaii. Normally, it is common to tip 15 to 20%, but give the amount you are comfortable with depending on the quality of service and food.
Dress Code
For men, Aloha shirts are considered dressed up and are worn for business and most occasions. Women may wear a dress which is called a Muumuu. There is no problem with these outfits when entering a prestigious restaurant. However, choose something that looks good and avoid flip-flops or rough shorts when in fine restaurants.
Lei
When you receive a Lei of fresh flowers, it is a Hawaiian etiquette to decorate in the room without throwing it away as garbage, and then untie it from the thread and return it to the nature. Make sure you do no throw it into the sea with the ring, as it can get entangled with animals such as sea turtles.
Follow your etiquette and be smart!