GV Hawaii was very honored to have Aline Danioth as a student last month. A Swiss Ski member and Swiss Olympic card holder, Aline decided to come to Hawaii to study English while recovering from a leg injury. Here's what Aline had to say about her time in and out of school.
1. What did you like about GV Hawaii and your classes?
"It was a perfect mix of speaking & writing for me! Also the teachers explained grammar parts really clear & the atmosphere was really great… I also learned a lot about the culture from Hawaii! So I was able to learn & improve my English a lot but in a fun way!"
2. What did you like about Hawaii?
"I love the nature of Hawaii. I was really impressed about the different kinds of nature in such a small island!! The beaches look different everywhere & the mountains as well… I love the combination of beaches, mountains, jungle! I loved to discover new places & also loved to check out not only touristic but also local places, this island has so much to see! I also love the vibe here!!"
3. Would you recommend someone to come and study at GV Hawaii? If so, what advice would you tell that person?
"I would recommend everyone to study at Global Village Hawaii. The classes are really good to improve your English skills but GVH also helps you so much when you have questions about places you want to visit! I was really glad that they helped me with all the questions I had, in and outside the school!!"
We were happy that she enjoyed her time in and out of school. Contact GV Hawaii today to book your dynamic study abroad program and start making life-long memories!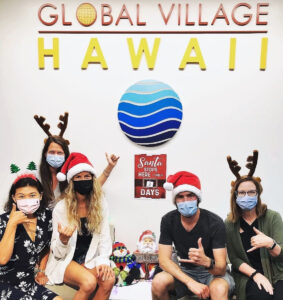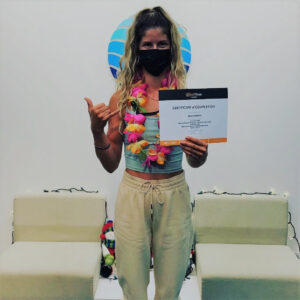 Aline with her classmates and teacher in the holiday / Aline receiving her Certificate of Completion