Our summer Cambridge Young Learners (YLE) and Teen Learners (TLE) Programs for 2022 have come and gone and it was incredibly eventful.
We adventured around Oahu exploring its natural beauty though hiking trails and swimming at various beaches. The students also got to visit many of the island's popular interactive attractions from The Children's Discovery Center, to rock climbing at HiClimb to WetNWild, Hawaii's only water amusement park. Last, but certainly not least, students experienced Hawaii's history and culture by visiting the Polynesian Cultural Center, Bishop Museum and learning firsthand about hula, ukulele and Hawaii's most popular sport: surfing.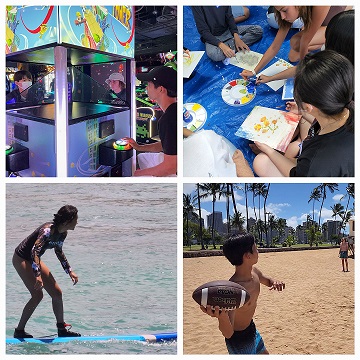 ---
ANNUAL PICNIC RETURNS!!
After 3 years of being unable to host large gatherings due to restrictions imposed because of the COVID-19 pandemic, GV Hawaii is happy to announce that its Annual Potluck Picnic is officially back!!
On August 6th, GV Hawaii hosted its Annual Potluck Picnic, a staple event here at GV. Students were able to hang out and eat delicious food while getting to know their classmates, host families and teachers.